Andrej Plenkovic
From BACID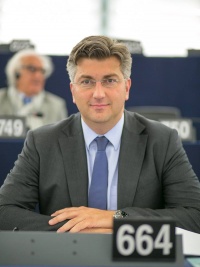 Andrej Plenković is a Croatian politician, lawyer and diplomat. As a member of the Croatian Democratic Union (European People's Party) he was elected to the European Parliament in 2013 and re-elected in 2014.
He is Vice‐Chairman of the Foreign Affairs Committee and Chairman of the EP's Delegation to the EU‐Ukraine Parliamentary Association Committee. He is a substitute member in the Budgets, Constitutional Affairs and Fisheries Committees. He was a Member of the Croatian Parliament from 2011 to 2013.
In 2010 and 2011 he was a State Secretary for European Integration in the Croatian Government and contributed to the finalisation of Croatia's EU accession negotiations. He had a prominent role in the campaign for a positive referendum on EU membership in January 2012. Previously he developed his professional diplomatic career in the Ministry of Foreign Affairs where he worked at different positions. Inter alia, he was Head of the Department for European integration, Minister's Adviser for EU affairs and Member of the Negotiation Team for the Stabilisation and Association Agreement. Subsequently, he served as Deputy Head of the Croatian Mission to the European Union in Brussels (2002–2005) and Deputy Ambassador to France in Paris (2005–2010).
He graduated law and completed his master's degree in international law at the University of Zagreb. Plenković speaks English, French and Italian and has a working knowledge of German.