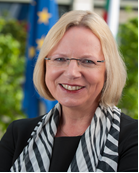 Since November 2007, Prof. Dr Marga Pröhl is the Director-General of the European Institute of Public Administration (EIPA) in Maastricht (NL). EIPA provides vocational training, applied research and consultancy for the public administrations of the EU Member States, the candidate countries, as well as the European Institutions. EIPA's objective is to contribute to the development and dissemination of knowledge on all questions of EU affairs, EU decision-making procedures and EU policies, as well as on modern public management.
From 2004 to 2007, she was Head of Division in the Department of Administrative Modernisation, within the Federal Ministry of the Interior, Germany, where she dealt with the reduction of bureaucracy, modernisation of administration, as well as the cooperation in these areas with the OECD and the European Public Administration Network (EUPAN).
From 1989 until 2004, she was Head of Division of 'State and Public Administration', within the Bertelsmann Foundation, Gütersloh, Germany, where she was responsible for the reform of public services in the administrative and educational fields. She was also a member of the executive board of the foundation.
In 2000 she became Honorary Professor at the German University for Administrative Sciences, Speyer. From 1985 to 1989 she took on a leading position at the United Nations (UNDP) for trans-regional projects. She undertook studies in social sciences and economics, focusing on the theory and practice of management and leadership education, as well as working as Assistant Professor at the University of Osnabrück.